First human study on advanced cancer patients shows fucoidan increases quality of life!
The study [1] involved giving fucoidan to advanced cancer patients.  Quality of life scores were established at the beginning of treatment.
The inflammatory processes in the body caused by cancer were also measured when the study started. There was a significant reduction in all of the inflammatory markers after two weeks of fucoidan use!
The quality of life scores for the subjects improved, with symptoms such as fatigue remaining stable.
The study concluded with researchers commenting, "This is the first study providing evidence of the anti-inflammatory effects of fucoidans for advanced cancer patients. In future studies, larger blinded, controlled trials are required to establish the efficacy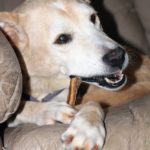 of fucoidan as supportive care for cancer patients, especially those undergoing chemotherapy."
More studies on humans are being done, and we will try to keep you updated on all of the results as they come in!
We feel this is great news for all of our pets that are already suffering from this disease!  Quality of life is everything when you are close to the end.  Help your senior dog have improved quality of life with all natural holistic organic Fucopia!
---
[1]New Study Finds Fucoidan Benefits Advanced Cancer Patients
Hidenori Takahashi, MD, Mitsuhiko Kawaguchi, MD, PhD, Kunihiro Kitamura, MD, PhD, Seiji Narumiya, MD, PhD, Munenori Kawamura, MD, PhD, Isamu Tengan, MD, Shinji Nishimoto, MD, Yasuo Hanamure, MD, PhD, Yasuo Majima, MD, PhD
Yasuo Majima
First Published February 12, 2017