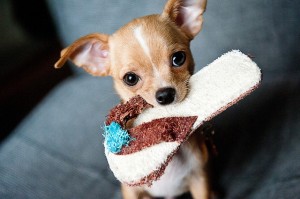 Supplement Facts:
100% certified Organic, sustainably harvested Fucus Vesiculosus
From North Atlantic waters
Quality checked for microbiological contaminants, pesticides, heavy metals, radioactivity, herbicides and petroleum residues.
No Side-Effects
Dried at low temperatures to retain potency
No solvents used in processing
Easy to administer powder (no capsule/pill)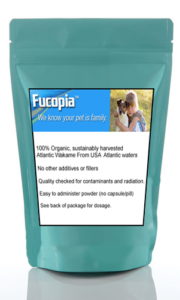 Each 4 oz. pouch of Fucopia™ contains about a one month supply for most pets, (and more, depending on the weight of your pet and recommended amount (see below).
Fucopia™ contains holistic naturally dried and powdered certified organic Fucus Vesiculosus, a rich natural source of fucoidan and 56 essential nutrients, in a bio-available water soluble powder. There are no added fillers, no capsules that would require non-caking ingredients, nothing but premium 100% organic North Atlantic seaweed. Our products are not produced with solvents or heat that may alter the fucoidan potency or degrade nutrients.
We only use the purest food (human) grade Fucus Vesiculosus that has been quality checked and has the right amount of iodine for thyroid support and all of the benefits that fucoidan provides.
Feeding Recommendations – Mix in thoroughly with wet canned food
Dogs under 25 lbs. – 1/4 teaspoon
Dogs 25-50 lbs. – 1/2 teaspoon
Dogs 50+ lbs. – 1 teaspoon
Cats – 1/4 teaspoon
Horses – 2 Tablespoons
Colts and Ponies – 1 Tablespoon
Feeding Tips:
Most pets enjoy the flavor when the small amount they need is mixed in their food. Fucopia™ has a mildly salty flavor they like. In the rare case that your pet does not seem to like it, use a smaller amount and gradually increase it to the recommended amount. Some pets are more sensitive to any change in their food than others!